Automotive & Transportation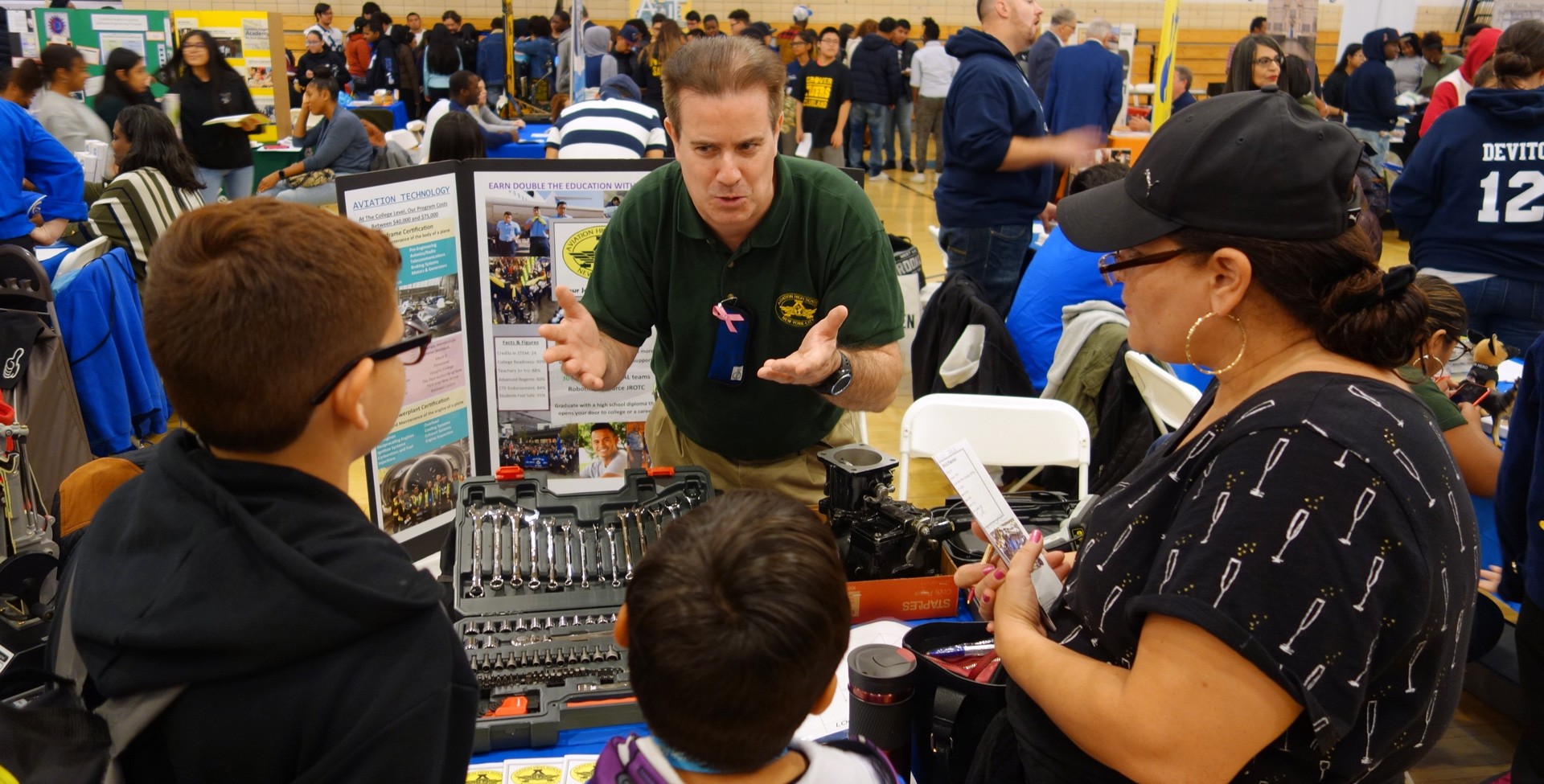 The CTE Automotive & Transportation Commission is one of the first commissions added to the NYC CTE portfolio with over 16 Automotive & Transportation CTE programs available in 11 schools, serving over 4,100 students. The Commission is co-chaired by Keith Kerman, Chief Fleet Officer, NYC Department of Citywide Administrative Services and Daniel Cardoza, Acting Chief Maintenance Officer, NYC Transit, Department of Bus, MTA Bus Company.
This sector encompasses air, sea, rail, road, sightseeing, and support services to transportation. It also includes the automotive repair services industry. There is a large amount of both public and private sector employment, especially in transit and ground transportation. There is a growing large sustainability component with electric buses, hybrid vehicles, and other alternative fuels and an increasing need for mechanics and those with electronic, computer skills and analytical skills in the sector.
Automotive & Transportation Core Commission Members include:
 
AAR Corp

DCAS

Department of Transportation

Faztec Industries

Fleeting

Ford

Greater New York Dealers Association (GNYADA)

MTA Bus Company/NYCT Department of Buses

MTA Headquarters

MTA: NYC Transit

NYC Economic Development Corporation/Port NYC

Pro Built Auto

Toyota

Uber

Women Auto Know
Be the voice that shapes the future! We invite you to connect with our commission to help inspire and educate CTE students. To learn more about the Automotive & Transportation Commission and specific ways in which you can support schools, please contact Gavaskar Reid, Industry Engagement Manager at greid10@schools.nyc.gov.
Explore recent Labor Market Data to learn about workforce trends in the Automotive & Transportation industries
Spring 2022 CTE Automotive and Transportation Labor Market Tool
Schools with CTE Automotive & Transportation Programs
With over 11 NYC high schools with CTE Automotive & Transportation programs, there are many options for students and families to choose from. Our CTE Program Directory tool can help you explore the comprehensive list of programs available at NYC high schools. Students opting for Automotive & Transportation programs have the unique advantage of being exposed to learning and work opportunities in the key areas noted below as well as industry-relevant credentials. 
Automotive & Transportation Learning Areas:
 
Automotive Technology
Auto Body
Aviation Maintenance Technology
Marine Systems Technology
Transit Industrial Electrical
Transit Technology
Vessel Operations
Key Credentials offered:
 
Automotive Service Excellence Student Certification
Inter-Industry Conference on Auto Collision Repair (I-CAR) Certification
S/P2 Automotive
Marine Systems Technician Certification
FAA: Airframe and PowerPlant Certification